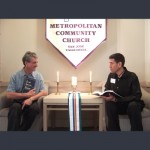 We meet in the Collins Room at Grace Baptist Church, 484 East San Fernando (San Fernando and 10th).
Tuesdays, 7:30pm-9:00pm
The ACIM  study group is now independent and not affiliated with any curch.  The group meets every Tuesday to read and discuss passages from "A Course In Miracles."  No prior experience with "A Course In Miracles" (ACIM) is necessary in order to participate.  For more information about this group, please contact Karl Vidt at miraclessj@yahoo.com .
We also have a free weekly ACIM newsletter. This newsletter contains information about what passages of ACIM the group will be studying each week, as well as a meditation on the week's readings by Karl Vidt, the leader of our ACIM group.  To sign up, please use the form below.
Subscribe to our Weekly e-Newsletter