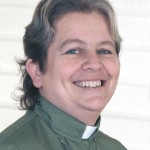 You are welcome to worship with us and celebrate the life and ministry of MCC San Jose as we gather for our final worship service this Sunday, February 26th, 2012 at 10 am, with a potluck lunch celebration afterward.We gather with both sadness and deep joy, knowing that although change can be hard, it can also open new doors of possibility in our lives; knowing that God's love is not confined to a particular worship community – and will go with each of us as we seek the next steps on our journeys.
Whether we see you this Sunday or not, know that we are thankful for your connection with MCC San Jose.
Love and Blessings to each,
Rev. Rebecca Anderson
p.s. Elsewhere in this  website you will find ten wonderfully welcoming greetings from pastors and spiritual directors of other faith communities. We trust that the Spirit will guide you on your journey, and that your best experiences of MCCSJ will live within you.