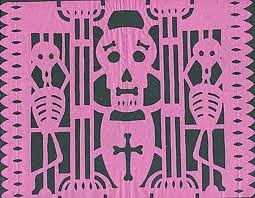 Join us this Sunday, October 30, 2011, 10 am Worship for our All Saint's Day / Day of the Dead observance: 
Please bring photos or mementos of loved ones past, or those who have been 'Saints' to us… marigold flowers for our Day of the Dead Altar are also welcome!
 Reverend Rebecca will preach on The Beatitudes: Matthew 5:1-12 ; "Blessed Are…"
 **Meet and eat after worship. Let's treat one another to a celebratory Autumn Potluck to nourish our spirits and bodies.
 AND, PLEASE plan to stay so we can complete the MCC SJ Timeline exercise we began in August !
 We'll review what we've already done and focus on moving forward through the 1990's, and from 2000 to the present.  Who are our saints of the recent past at MCCSJ? Let's remember them in this on-going celebration of our church identity and history!