Here's a short piece that Rev. Mike wrote with answers to some of the common questions that he's received about the transition: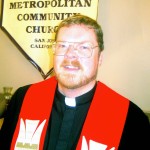 A lot of my friends have been wondering what's next for me after I leave MCC San Jose.
In terms of work, I'm thinking that I would like to go back into software design and implementation for a while. That was a fun career, and it exercised a part of my brain that I haven't gotten to use a lot while working as a senior pastor. I will probably take a month or two before I begin my job search in earnest. I've been out of circulation for a while, and I would like to take a little time to play with some of the new development tools before I really start looking.
In terms of church, I'm planning to be a church tourist for a while before I settle at another faith community. As a pastor, one doesn't get a lot of opportunities to visit other houses of worship to see what they do, and I'm looking forward to a period of exploring before I settle down again. I will be maintaining my MCC affiliation, and I also look forward to spending some time with other faith communities both inside and outside of Christianity. I don't plan to take another senior pastor position for a while, but I wouldn't be surprised to find myself back in a full-time ministry role at some point in the future.
In terms of MCC San Jose, our denomination's guidance is very clear. Once a senior pastor leaves a church, he or she is not supposed to return for at least a year. While I will be sad to leave the wonderful community that is MCC San Jose, I recognize the wisdom of our denomination's policies and I will abide by them.
In terms of the council of churches, I will be continuing to serve as the president of the Council of Churches of Santa Clara County until my term of office expires in June.
In terms of geographic location, I am planning to remain in San Jose.
Overall, I don't have a lot of specific answers about what's next, but I have a very strong sense that I am on the right path, and I'm doing what God is calling me to do.