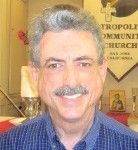 a reflection by Karl J. Vidt
Each week as I place my offering in the plate at MCC San Jose, I feel the blessing of God wash over me.  The blessing is substanStial.  I experience God's blessing in many experiences in my life.  This one has a particular history in its making.
 In 1985, a year after I became a member of MCC San Jose, I accepted an invitation to join its Board of Directors.  In doing so I was surprised to learn that it takes a bit of money to keep a church running and for the most part, the only place that money comes from are the people that attend the church.  Up until that point, I had dropped the occasional $20.00 bill in the offering plate and felt good about doing so.  I realized that I cared a great deal for MCC San Jose and wanted to support it in a more substantial way. 
I decided to look into the practice of tithing.  To me that meant giving to the church 10% of what I made.  I calculated the amount and was astounded at how much it appeared to be.  I also became aware how little the occasional $20.00 was in comparison.  I couldn't see a way that I could give a tithe.  But I really wanted to support the church in a more substantial way.  So I made a pledge to myself to give a certain amount each week.  I started with $25.00 a week.  That was doable.  It felt really good to place that check in the offering plate every week.  It in fact was a blessing.  I soon realized that I wasn't missing out on anything because of that donation. 
Next I pledged to increase the weekly offering I gave.  I decided to add 25% of my next raise to my offering.  I also committed to increasing the weekly amount by $5.00 every two months or so.  As the weekly amount increased I rarely felt a financial pinch.  What I didn't expect was the blessing I received from making a conscious act of intentional giving.  Before I knew it I was literally tithing.  I had made a spiritual practice of giving and had no difficulty with the amount.  It fit perfectly in my budget even though I could not see how to do it a year earlier. 
When I became disabled and could no longer work, I determined to keep giving intentionally.  As I was facing a major decrease in income after about two years of disability, a request came for me to apply for a new Church Administrator position at MCCSJ that the pastor thought I would be well suited for, even though I was blind.  I was hired and able to keep tithing.  The job and the act of tithing were both blessings.  In 2009 when the church could no longer afford to continue the paid position an anonymous donor came forward and donated the funds to keep the position funded.  As a result I was blessed and I will be able to continue blessing the church with intentional giving.  A Course In Miracles says "giving and receiving are the same".  My experience of tithing has shown me that it is so.
This reflection was originally published as part of MCC San Jose's weekly reflection series. Please click the following link for more information about MCC San Jose's weekly reflections.