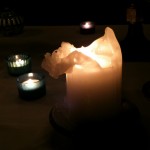 Please join us for MCC San Jose's annual Candlelight Christmas Eve Service at 10pm on December 24. Our Christmas Eve service will feature lots of Christmas carols, including a chance to sing "Silent Night" by candlelight. We will also have some special solo performances, Marge Burns will play Grace Baptist's organ before the service, and Rev. Mike will share a short Christmas reflection.
Our friends from Grace Baptist Church will be joining us for this service – everyone is welcome!
Need directions? Please click the following link for information about how to get to our new location.