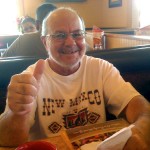 a reflection by Rev. Sky Anderson
People ask me all the time, "What is MCCSJ?" To me, the question ought to be, "Who is MCCSJ?" Probably the best way to explain what I am trying to say is by giving an example.
Last July I went through a major operation on my spine. Needless to say I was worried, not so much for myself as I was for Fay and our four children, all of whom have disabilities. I knew I was in for a long recovery period and that meant Fay had to fly solo with all the kids. Wrong!!
Immediately, Rev. Mike got on the phone and put together a team of people from the church who were more than willing to help us through the months ahead. There were Nancy and Judd, Joe and John, Erico, Michael I., Kevin, Jim, Sherry, along with everyone else on call to be there in our time of need. The Reiki healers lifted us in prayer as did the music ministers of the church… everyone was there in one way or another.
They took shifts during the week to make sure life went on as usual for our kids. They took them out for walks, or to the movies, or just came over to hang out and have fun with them. Others helped Fay do the shopping. Whatever was needed, they were there through the months of recovery. The team helped make what was a frightening journey a joyous success and a visible testimony of what it means to be the "Church Alive!"
We will never be able to thank each of them enough. They are our angels who sure know how to love. Maybe that sounds "mushy," but it is our reality.
This church always tries to be there for its members and friends in ways we sometimes take for granted. We have come to believe by our actions and spirit that MCC is not just a place we to to, it is who we are as a people. Now don't get me wrong! We have our cracks and maybe we need more mortar in our joints, but a least we, as a people, are doing the best we can. We are no longer afraid of the monsters in our lives.
This church is made up of people and together we will keep on working and living and serving God in and through one another, as community.
Do we have a long way to go? Yes, but we know that with God all things are possible and that together we will continue to grow in the understanding of our call to love and serve. For many people in the LGBT community, the words Church, God, faith, etc. have become synonymous with hatred and fear. They have become symbols of oppression and abuse which have broken many hearts and torn families and friends apart. We are working together to change that by our commitment to love and heal and grow in ways that bring new life and hope within our community. Won't you come and join us?
This reflection was originally published as part of MCC San Jose's weekly reflection series. Please click the following link for more information about MCC San Jose's weekly reflections.