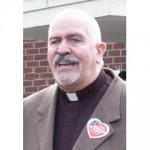 Please join us at 6:00pm on September 13 for a rare opportunity to hear and meet Troy Perry, a pre-Stonewall LGBT rights activist. Troy has been a leading voice for LGBT rights for more than forty years.  As part of his recent work, he was one of the original plaintiffs in the lawsuit which resulted in the 2008 California Supreme Court ruling which made marriage legal in California before the passage of Proposition 8.
Troy will be speaking as part of MCC's first evening worship service at our new location, 484 East San Fernando Avenue in downtown San Jose (Grace Baptist Church). Please click the following link for directions to our new home.  Note:  unlike our previous location, our new space is wheelchair accessible and has a parking lot!
Please join us after the service for refreshments and a chance to meet Troy.