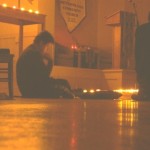 Please join us at 7:30pm on Wednesday, September 16, for the return of our monthly Taizé services. Our September service will feature the deep and beautiful music of the Taizé Community and our choir singing Anton Bruckner's "Locus Iste."
This will be our first Taizé service at our new home. We are now sharing a building with Grace Baptist Church, located at 484 East San Fernando Street in downtown San Jose. Please click here for directions.
For a complete set of dates for our 2009-2010 Taizé season, please click the following link to visit our Taizé page.