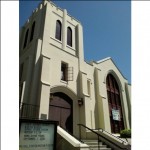 Please join us for a special service on June 7 at 7:15pm at Grace Baptist Church, located at 484 East San Fernando Street (10th and San Fernando).  We are considering moving to Grace Baptist, and this service will help us get a feel for what worship there would be like.  
We will also have a tour of the Grace Baptist facilities starting at 6:15pm.  Please join us to explore the space together.  
Grace Baptist has a parking lot, which you can enter off of 10th Street.  On evenings and weekends, you can park in any spaces, whether they are marked as "Church," "Visitor" or "Community Center."  Please click the following link for a map showing Grace Baptist.  
If you'd like to learn more about Grace Baptist, you can click the following link to see a comparison of our current location and Grace Baptist.  The categories in this comparison are based on a congregational survey we did in 2008.  You can also click the following link to download a copy of the 2008 survey results.