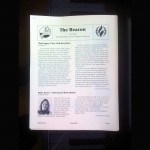 In order to reach people who don't have easy access to the internet, we've created a printed newsletter with some of our most popular weekly reflections.  We've named it "The Beacon," after a newsletter that our church used to publish about ten years ago.
If you'd like a copy of the Beacon, please call our church office at (408) 279-2711.  We would be glad to mail you a copy.  You can also download a copy by clicking the following link:  The June 2009 Beacon
Our June issue of the Beacon contains the following articles:
If you want to receive our weekly reflections as soon as they come out, you can visit our Weekly Reflections Page to subscribe.