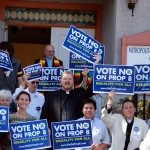 The California State Supreme Court has upheld Proposition 8.  The court has also upheld the marriages of the couples who were married last year, but no new same-sex marriages will be performed in California.  This means that there are now three classes of citizens in California:  those with full rights, those with limited rights, and those who have had their rights taken away.  
Rally: There will be a rally at 6:00pm on Tuesday, May 26 starting from Plaza de Ceasar Chavez downtown (at Market and San Fernando), then marching to San Jose City Hall at 6:30pm. Please join us as we speak our minds and prepare ourselves for for the next steps in working towards equal rights for all people.  
Taize Service: We will have a special Taize Service at 7:30pm on Wednesday, May 27 to renew ourselves through prayer and centering music.
Times for Prayer: MCC San Jose will be open for prayer at the following times:
Noon to 1:00pm on Tuesday, May 26
Noon to 1:00pm on Wednesday, May 27
5:00pm to 7:00pm on Wednesday, May 27
Let your soul guide you, and let your heart be strong!  Let us gather as a community to support one another as we continue to bear witness to God's boundless love.