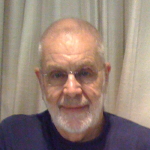 by Judd Ingram
 
I became a member of MCC San Jose after a long life as a member of the Catholic Church.  As a longtime Catholic, and one who also worked for Catholic Social Services, I became uncomfortable with the lack of progress in the relationship between the Church and the GLBTQ community.  For a period of time I did not attend any church, but then my wife suggested that we attend a service at MCC.  After attending MCCSJ for an Easter service, I found that it was where I wished to continue my personal spiritual practices.  
I previously had been exposed to Reiki by my wife who had been trained in it.  At first I thought that it was just another activity to use up time, and of little value.  
After a while, I decided to investigate what was involved, and I signed up to take the level one Reiki training.  During the training I learned that Reiki involved healing through universal energy, which could involve the prayerful laying on of hands or could involve healing from a distance. To grow with Reiki required that I establish a routine of practice for my own spiritual growth.  This became a challenge for me, and I sought to learn all that I could.
As I became more involved in giving Reiki to myself and others, I realized that my attention was being directed more towards my own spirituality.  As time passed, I studied more.  Through my training, I advanced to a level at which I was able to volunteer to provide Reiki to patients in Hospice at the VA Hospital. This has affected me spiritually.  Being with patients who were about to die really makes you aware of the presence of God.  These were patients who weren't going to be helped by medicine or anything else – the only answer for them was God.  I knew that God was with them as they died.  I could see it in the peaceful and easy way that they made their transition.  
The word "Reiki" means spiritual or universal energy.  It was Jesus who said that we should all lay our hands on others, especially those who may be in need of assistance. I believe that Reiki is one way that we may be of help.  
At MCC San Jose, Reiki is available to both those who would like a treatment during the Sunday service and on selected Monday evenings at the Church. Additionally individuals may participate in classes when offered.  For more information, please visit our Reiki web page.
This reflection was originally published as part of MCC San Jose's weekly reflection series.  Please click the following link for more information about MCC San Jose's weekly reflections.