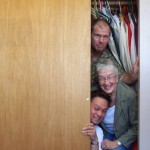 I was recently reading Rev. Denis Moore's article about how we should embrace our sexuality and accept it as the essence of who we are, and I thought about how blessed I feel to have found MCCSJ.  I also thought about how grateful I am to God, Our Supreme Source, for filling my heart with joy, hope, and faith.
Now I know, with no doubt, that I'm His creation too, that He knows me, and that He was in love with me even before I came to exist in this world.

Finally, as I approach my 46th birthday, for me there will be no more struggles, no more doubts, no more emptyness, no more suicide attempts, no more depression…
I'm strong now! My God Is My Rock, and I don't need everybody's approval. He loves me for whom I am, a transgender FTM.
I don't think of myself as worthless anymore as I used to, now I know that I'm in this world for a reason.  My life has a purpose: to serve Him, and my sisters and brothers.
Now I know that I should be strong to leave a legacy to all those that come after me with more doubts and less faith. I feel the responsibility to be strong, so I can give them the hope that everything can change, that everything is possible in God's name because He loves us, we are His creation.
MCCSJ, has accepted me as a new member of this family with unconditional love, and total respect for who I am, I want to extend an open invitation to you to come to our Coming Out Support Group.  You are not alone any more, we are here to support you, and as we say here at MCCSJ, "Be who you are!"
May God bless you now and always, your brother in faith, Woody Camacho
Please click the following link for more information about MCC San Jose's Coming Out Support Group.
You may also wish to read these related posts on our website: