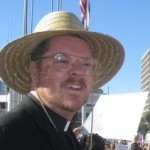 May my prayer be set before you like incense;
may the lifting up of my hands be like the evening sacrifice.
– Psalm 141:2 (NIV)
A couple of months ago, I happened upon a group of Muslims engaged in prayer on the plaza of San José's City Hall. They were performing Salat, an Islamic ritual that devout Muslims repeat five times each day. The chance to witness Salat still feels like a rare treat to me, so I stopped to watch respectfully as they prayed together.
As someone who has attended a wide variety of Christian churches, Salat still feels strange and wonderful to me. It is a very embodied way to pray – the ritual includes bowing, kneeling, standing, sitting, movement and stillness. Specific instructions are given for the knees, the wrists, the forehead, the chest, the face, and the shoulders. The whole body is involved in praising God, seeking peace, and praying for blessing.
Too often, I think, Christians look at prayer as a way to escape from our bodies. It is as if we want to deny that we too were created with knees and elbows, wrists and ankles, chests and faces. And while stillness and silent prayer have their merits, it can also be good for us to lift our hands and arms and voices to God with our prayers and praises.
So I leave you today with this challenge: how can you involve your left elbow in prayer? How about your right knee? Can you use your lungs and vocal cords and lips to make your body vibrate with song and praise? How can you pray with your whole body, with all of its strengths and all of its limitations?
This reflection was originally published as part of MCC San Jose's weekly reflection series.  Please click the following link for more information about MCC San Jose's weekly reflections.