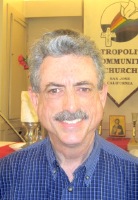 I See You . . .
 
I am grateful to you AIDS
You have deconstructed
   Everything I made.
And allowed it all
   To reassemble in a new creation
Still all that I was
   But a new creation
All that I will become
   Yet, all that I am.
                  – Karl J. Vidt, October 2008
On March 6, 1989, I tested positive for HIV, the virus that causes AIDS. I expected the test to confirm that I did not have the virus. I thought that I had escaped. But the virus had been lying dormant in my body all along. I was in deep shock.
This started a chain of events in my life that was beyond my control. In 1993 I was diagnosed with CMV Retinitis, which affected my eyesight. Eventually I was sick enough to need to go on disability. Then I lost my eyesight – I was blind. As I struggled my way through all of this change, I kept asking, "Why am I still here? I should have died by now." The answer every time was "You aren't done yet." But what did that mean? I wanted real answers!
The answers didn't come right away. First I had to come to terms with having AIDS. I had to know within my being that I could accept and make peace with what had come my way. As that acceptance grew, new doors began to open for me. I began working as Church Administrator at MCCSJ. I became involved with the Disability Advisory Commission with the City of San Jose. I became a Reiki practitioner. And I joined the Santa Clara County HIV Planning Council. In each of these roles I have had the chance to make a difference in countless people's lives.
I could never have imagined doing any of this before. And I never would have done any of this had I not allowed the doors to open. What many would call great tragedy, pain, and suffering became the catalyst to a whole new way of living. This has brought me to the knowledge of who I really am, to the realization that life is lived from the inside out, and to the awareness of God's continuous presence shining within my being.
I now believe that all things that come our way, whether good or bad, are an opportunity to move into the beauty of our true essence – a chance for us to allow God to make a difference in our lives. If we just allow God to work in every situation in which we find ourselves, we will find the abundance of blessings God has for us.
– Karl J. Vidt
This reflection was originally published as part of MCC San Jose's weekly reflection series.  Please click the following link for more information about MCC San Jose's weekly reflections.