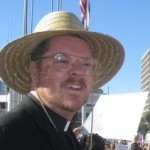 May my prayer be set before you like incense;
may the lifting up of my hands be like the evening sacrifice.
– Psalm 141:2 (NIV)
A couple of months ago, I happened upon a group of Muslims engaged in prayer on the plaza of San José's City Hall. They were performing Salat, an Islamic ritual that devout Muslims repeat five times each day. The chance to witness Salat still feels like a rare treat to me, so I stopped to watch respectfully as they prayed together.