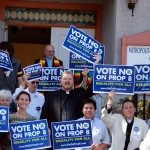 Please join us for a marriage equality rally at MCC San Jose from 6:30pm to 7:30pm on Thursday, February 12.
Update: due to the possibility of rain, the rally has been moved to MCC San Jose in downtown San Jose.  This will be an indoor event. This event was originally planned for the county building, but we have moved it due to the weather forecast.  
This rally is co-sponsored by Marriage Equality Silicon Valley, Marriage Equality USA, BayMEC, the Council of Churches of Santa Clara County, and the Metropolitan Community Church of San Jose.
At the rally, we will honor the 18,000+ LGBT couples who were married from June to November, 2008. We will speak out to affirm these families and demand that their marriages not be destroyed by the current litigation. Please join us for a strong and peaceful demonstration, complete with flowers, flower girls, and wedding cake!
We will also honor and stand in solidarity with those who want to make a similar commitment, but cannot because of the Supreme Court's stay on the issuance of marriage licenses to same sex couples as a result of the passage of Proposition 8 last November.
If you got married, please come and renew your vows. If you want to be married, but can't get a marriage license, please come so we may honor your commitment and show that you are not alone. Pass this message along to others through all the media channels possible. We cannot be silent any longer. We must stop the hate.
Speakers at the rally will include:
Molly McKay, Marriage Equality USA 
Rev. Michael Patrick Ellard, MCC San Jose & the Santa Clara County Council of Churches
Steve Kline, Marriage Equality Silicon Valley
Leslie Bulbik, BayMEC
Marta Donayre, LGBT Immigration Rights Activist
Greg Belaus, Marriage Equality Silicon Valley
Anne Hansen, DeFrank LGBT Community Center
Gloria Nieto, Marriage Equality Silicon Valley
Many thanks to Ed Boeke of Ed Boeke Corporate Florals for providing the flowers for this event.  
If you are on FaceBook, you can click the following link to join the rally's FaceBook group.