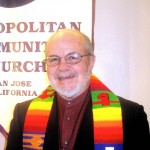 Valentine's Day is on the horizon. Soon love will fill the air, hearts and flowers and cuddly bears will be everywhere. For a moment, we will celebrate and embrace the people we cherish: our lovers, friends, and especially this year, our spouses. Inside we will wonder what the final decisions of the court will be. Will they decide to erase marriages already written into law? What awaits us? And so, we celebrate, we pray, and yes, we worry.
Whatever the decision, no law and no human being can ever take away what we in the LGBT community have finally come to realize: our relationships are just as sacred, just as valued in the eyes of God as any other! Finally we have come to fully accept that who we are, how we love, and who we love is our choice, our right, and our gift! We are to defend our relationships and honor them as sacred ground, untouchable and holy no matter what anyone else may believe. Because of this reality in our lives, we will not relent until justice, equality, and our rights are acknowledged and written into the law.
The season of Lent, too is near. A time for reflection and change of attitude, both within our spiritual lives and our lives as human beings on many different levels. As we face both the joy and the pain, the emotional spectrum of our being, may we come to cherish even more deeply the God-given gift of love and the mystery of loving one another beyond the depths and rationale of all human understanding.
Don't grieve, believe! Move the mountains! Our time has come!
Happy Valentine's Day, you blessed community of lovers!
Rev. Sky Anderson, MCC San José's Minster of Community Life
This reflection was originally published as part of MCC San Jose's weekly reflection series.  Please click the following link for more information about MCC San Jose's weekly reflections.