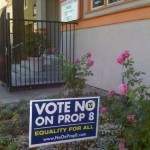 HRC, the DeFrank Center, and the local "No on Eight" Steering Committee are working together to organize a "No on Eight" rally this Sunday, September 21, outside MCC at noon (just after our Sunday service). The rally is expected to last half an hour to forty-five minutes, and will be a crucial opportunity to show the media that there is strong local opposition to Proposition Eight.
Proposition Eight is designed to take away the right to marry for same sex couples and treat gay and lesbian folks unfairly.
Speakers at the rally will include Rev. Michael Patrick Ellard, senior pastor of MCC San Jose; Rev. Dana Bainbridge, pastor of the First Christian Church of San Jose (Disciples of Christ), and others to be announced.
If you're new to MCC, you might want to visit our How to Get Here page to get directions to MCC San Jose.
The media will be invited, so if you're camera shy, you might want to leave church before the rally begins, or hang out inside until the rally is over. The rally will be outside – cameras and the press will be asked not to come into the church.