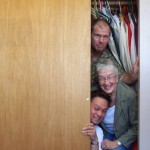 Are you struggling with your sexuality and would like to find a safe place to explore what all this means for you? Do you wonder how "coming out" will affect your relationship with God, or your life in the Spirit?  MCC San Jose welcomes you to visit our new "Coming Out Support Group," every Friday evening beginning September 19th, 2008. 
Remember, "Perfect love casts out fear!"  Come, journey with us!
For more information, please call Rev. Sky Anderson at (408) 279-2711 ext. 3.