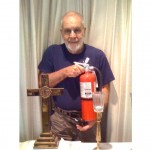 Many thanks to Judd Ingram, who took our fire extinguishers for their annual check-up.
Praise to Karl Vidt, who gave a presentation on Reiki at the DeFrank Center.  Kudos also to Nancy and Judd Ingram, Phyllis Gallagher, Sue Orr, and Shannon Robinson from our Reiki ministry who attended the presentation and helped give Reiki treatments to the attendees.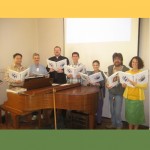 Congratulations to our choir for reorganizing and cleaning out our choir books.  The new choir books feature the MCC San Jose logo on the front cover and the MCC denominational logo on the back. To the left, you'll see a photo of some members of the choir with the new choir books.  
Many thanks to James Briones and Rev. Mike, who attended a Ritual of Healing and Hope at the First Unitarian Church of San Jose after the tragic church shooting at the Unitarian Universalist Church of Knoxville, Tennessee. Both James and Rev. Mike spoke as part of the service and they also sang "Hashivenu," a Hebrew lament, as a duet during the service.
Praise to Reiki ministers Judd, Dal, and Rev. Mike, who volunteered to give Reiki treatments at the Center for Living with Dying's most recent Rejuvenation Retreat.
Many Thanks to Rusty and Eric Tooly who donated a media tower to the church.  The media tower serves as a much better platform for our worship slide projector – not only is it more attractive, but it keeps the projector from shining in the eyes of our choir folk.
Kudos to Rev. Mike, who spoke to a class at Santa Clara University about the lives, spirituality, and experiences of LGBT people.