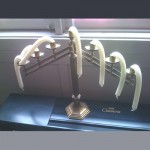 How hot was it in San Jose?  The photo to the left gives you some idea!
Congratulations to Michael Ingrassia, whose generative art was used on the cover of a recently-published economics textbook.  Here's a link to a web page about the book, including a photograph of Michael's art on the cover.  If you're interested in learning more about Michael's art, you can visit his Flickr page to see more images of his work.
Praise to Erico, John H, Joe, Michael I, Rev. Mike, Nancy, Judd, Dick, Sherry, Kevin and everyone who has been helping Sky and his family as Sky recovers from his surgery.  
Kudos to Ruth Huber, who will be traveling to Florida this week with the Rainbow Women's Chorus to participate in the GALA Chorus Convention.  Click here for more information about the GALA Convention. 
Do you know someone who deserves kudos, congratulations or praise?  Please send us suggestions at news@mccsj.org.