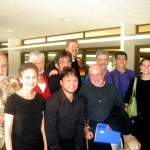 Kudos to Rev. Mike, who co-led a workshop on June 13 about "How to Talk about the Freedom to Marry."  About 30 people from a variety of faith communities attended, including Erico, Rev. Sky, and Michael I. from MCC San Jose.
Praise to the MCC San Jose choir, who sang at the annual Celebration in Spirit worship service in San Jose on Saturday, June 14.  Kudos also to Ruth Huber who was the music director for the service and also to Rev. Mike, who led a "blessing of relationships" as part of the service.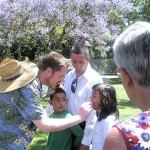 Many thanks to everyone who worked our Pride Booth this year, including Karl, Nancy, Judd, Paul, James, Erico, Rev. Mike, Rev. Sky, and probably some other great volunteers too!
Praise also to all of the MCC Folk who marched in this year's pride parade.  This year's contingent included Rev. Mike, Rev. Sky, Paul, Lannie, Misha, Rosalea, Kevin, Erico, Michael I., Judd, Nancy, Dal, Joe, John H., and James B.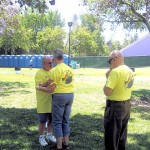 Kudos also to everyone who participated in the Sunday worship service that we did in cooperation with the First Congregational Church of Campbell at the Pride Festival.  To the left you'll see photos of Rev. Mike serving communion and Rev. Sky praying with people at the service.
Congratulations to Rev. Vicky Kolakowski and her partner, Cynthia Laird, who were married on Monday evening, June 16, in Oakland.  Oakland Mayer Ron Dellums presided over the ceremony, and U.S. Congresswoman Barbara Lee served as the witness. 
Kudos to Rev. Mike, who was quoted in Wednesday's San Jose Mercury News.  Click here to see the article. 
Finally, congratulations to Rev. Mike who has been named to the Honorary Board for the San Francisco Lesbian/Gay Freedom Band's 30th Anniversary Concert, which will be held in San Francisco at 8:00pm on June 26 and 27 at the First Unitarian Universalist Church of San Francisco.  For more details, please visit the band's website. 
Do you know someone who deserves kudos, congratulations or praise?  Please send us suggestions at news@mccsj.org.