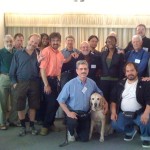 On Sunday, June 8, Brionna Acker from MCC of Redwood Empire in Guerneville came and spoke to us about a mission project that youth from throughout MCC are doing to provide help to people in the Dominican Republic. To the left you'll see a photo of Brionna with members of our congregation. You can click the photo for a larger view.
Our congregation took up a special collection to support this project. Even if you missed our June 8 service, you can still donate. Please click the following link to make a donation via our website. You can also bring a contribution to church anytime before the end of June.
If you'd like to follow the progress of the youth as they do their important work, here's a link to the project's blog.